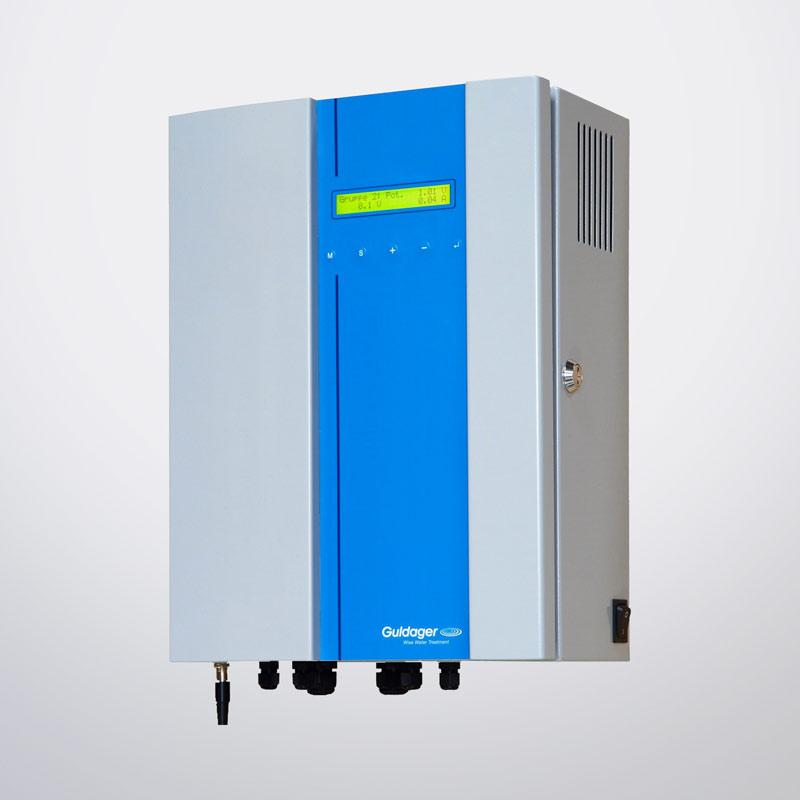 The intelligent controller
Guldager's corrosion protection control unit offers great advantages in controlling and monitoring corrosion protection systems.
Minimal access to facilities
No reading procedures
Immediate alert
Collecting more data from operations
Future-proof solution
UniControl allows for a whole new communication with the device. An integrated GSM module can send and receive operational information, which allows monitoring of corrosion protection without resource-demanding reading procedures.
The supervisor may be informed of errors via SMS. At the same time, Guldager's own systems are advised about operating problems. For operational adjustments, GSM communication can be used to receive new operating data for the system.
Do you want to know more? Call +45 48 13 44 00
Functionality
The basic function of the UniControl is to supply the boiler and the aluminum with the necessary power for cathodic protection and dissolution of aluminum.
We have upgraded all the modules in the UniControl and, in addition, we have increased the flexibility associated with the composition of the modules. The flexibility of the UniControl ensures that the control unit is designed for the specific task.
Easy documentation
UniControl collects operating data which can be used for documentation purposes, troubleshooting or operational optimization. Based on the different parameters, it can be assessed whether there is a risk of bacterial growth and if the protection of the boiler and the piping is optimal.
Full control and flexibility
UniControl is an improvement of the solutions that are on the market today. The power of each module is increased to 0-25V and 0-5A, which ensures sufficiently high power control without limitation at maximum voltage.
The galvanic separation of the outputs ensures full control of the separate circuits for the Al solution and cathodic protection of the boiler.
In order to maintain universal thinking, there are both water meter input and potential measurement cell input on all modules. This provides more options for choosing the right control parameter.
User-friendly design
The design of the UniControl is modern with an aesthetic edge and yet neutral. The new 2-line display shows relevant operating information.
Future-proof
UniControl is built as a universal model for all corrosion protection solutions. UniControl contains only 2 different modules:
Control module
Regulator module
All cabinets consist of one control module and up to 6 regulator modules. Each control cabinet can accommodate 3 regulator modules.
High quality and easy service
Simplification ensures high quality and efficiency in service. In order to ensure easy service, UniControl modules are located vertically with mounting clips, so module change is quick and easy.
Cables are assembled into detachable clamps that facilitate cable assembly.
Parameters and configuration settings are set in the menu structure of the display, which can be accessed by connecting the PC to the cabinet via RS232 or via remote service.
Remote service
Operators and service cars can save the ride to installations. With the built-in GSM module, UniControl can be accessed via Remote Service.
Remote Service provides you with an annual functional report by mail, as well as an SMS to an optional mobile number (eg. heat recorder or CTS) with normal function alarms. Remote Service can be expanded (optional) for transmission of function report 4 times a year with extended reporting of collected data as well as all incoming alarms.
We can send setup data or new firmware versions to the device via Remote Service – naturally as part of the service agreement.
Any questions? We are ready with advice and guidance.
Call +45 48 13 44 00  Monday – Thursdag 8-16 and Friday 8-15.30 and get answers to your questions about your installation, products, prices, contracts, etc. Our service center is also in contact with our service cars if you require emergency service.