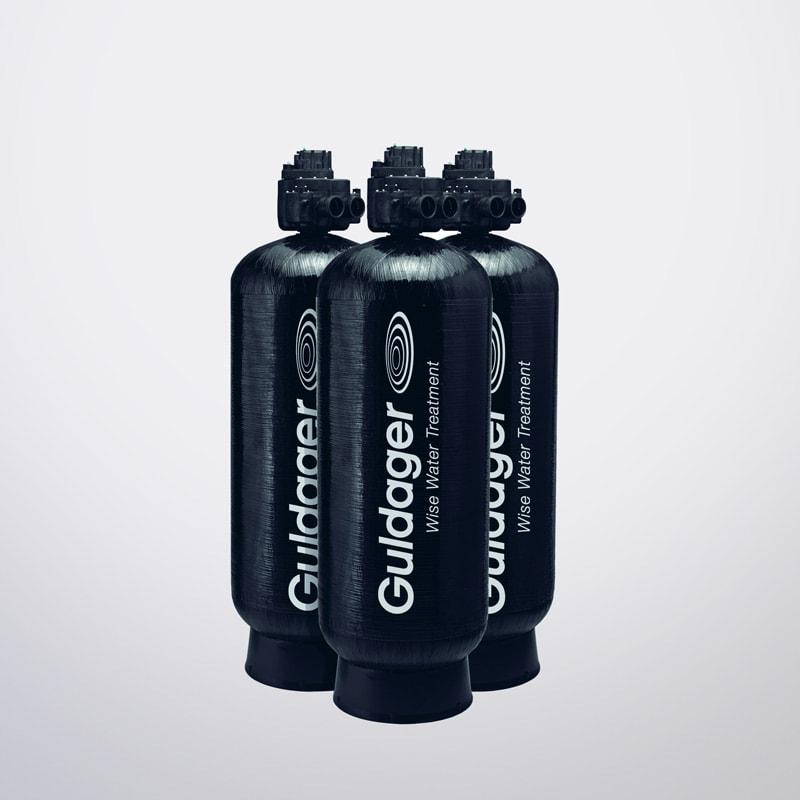 Soft water for larger plants
UniSoft® Hydrus effectively stops the lime. The special filter mass is capable of ion exchange calcium and magnesium and provides soft water.
With the low salt and water consumption, UniSoft® Hydrus is one of the most economical softening filters on the market. It delivers a high flow at moderate pressure loss.
The system is dimensioned for the individual task. It is volume controlled and the regeneration is reconciled with water consumption and hardness, but can also be timed via the Soft start controller.
Application:
Hotels
Heating water
Heating
Swimming pools
Cooling water
Description
When the raw water passes through the resin, calcium and magnesium ions are exchanged with sodium ions, and the system supplies soft water. The system is volume controlled and controlled by water pressure, so no electrical connection is required.
The plant regenerates with salt tablets and the time of regeneration is determined by the water consumption.
Capacity per regeneration depends on the current hardness.
01.
The Hydrus valve is regulated via Guldager's own Soft Start controller.
02.
The valve is corrosion resistant and designed to withstand even the toughest conditions.
Any questions? We are ready with advice and guidance.
Call +45 48 13 44 00  Monday – Thursdag 8-16 and Friday 8-15.30 and get answers to your questions about your installation, products, prices, contracts, etc. Our service center is also in contact with our service cars if you require emergency service.