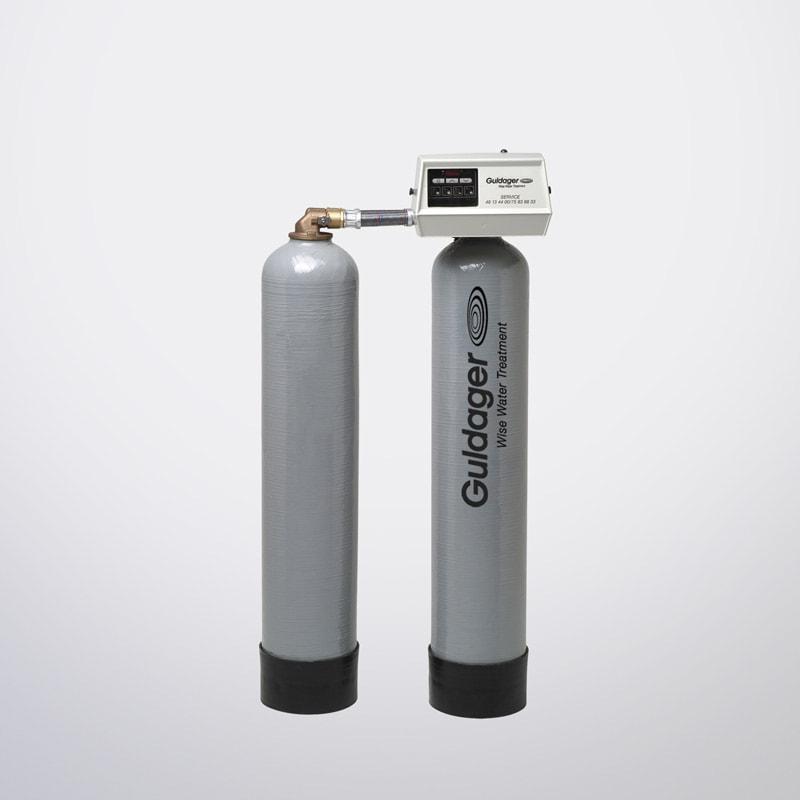 Soft water 24 hours a day
Volume controlled softening filters in the Guldager UniSoft 9000 series are duplex plants, delivering treated water continuously 24 hours a day.
By ion exchange, lime and magnesium salts are removed from the water.
The plant can be used with great advantage in connection with technical water installations where the need for softened water is large.
The advantage of volume control is that the filter spends its entire capacity before regeneration starts automatically. This means a reduction of the consumption of water and salt of 25% compared to a traditional time controlled plant.
Application:
Carwash Haller
Boiler water and steam production
Humidifiers
Dishwashers
Cooling towers
Pre-treatment for reverse osmosis
Description
When the raw water passes through the resin in the membranes, calcium and magnesium ions are exchanged with sodium ions, and the plant delivers soft water.
The built-in water meter records the consumption and switches automatically to filter ll. Then filter l with soft water from filter ll, which is now in operation. When regeneration of filter 1 is completed, it is on hold and will be switched on again for operation at the next filter change.
The UniSoft 9000 series is delivered in 6 sizes with a capacity from 2,000 – 15,000 liters per hour. Our engineers are pleased to make individual calculations if special needs or consumption patterns are to be taken into account. Guldager also delivers and projects time- and volume controlled simplex plants in all sizes. Capacity varying from 0,5 m³ to 200 m³ per regeneration at 20°dH, and a flow from 50 l/min to 500 l/min.
The UniSoft 9000 series is made of non-corrosive materials. In the regeneration process, soft water is used. This means a longer lifetime of parts exposed to abrasion.
Any questions? We are ready with advice and guidance.
Call +45 48 13 44 00  Monday – Thursdag 8-16 and Friday 8-15.30 and get answers to your questions about your installation, products, prices, contracts, etc. Our service center is also in contact with our service cars if you require emergency service.